United Network for Organ Sharing (UNOS) named Alejandra Cortes of Dayton, OR, the winner of its 2017 National Donor Memorial Award for Excellence in recognition of her untiring efforts as a donation advocate. This is the first time in the award's history that it was bestowed upon the family member of an organ recipient.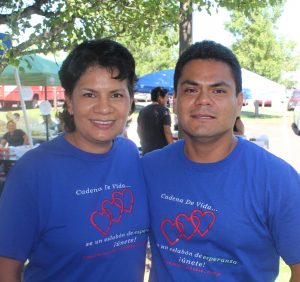 Nine years ago Alejandra's younger brother Jose suffered a heart attack. Although Jose survived the heart attack, a heart transplant saved his life. While recovering from his transplant, Jose asked Alejandra to help him serve his community and give others a second chance at life. The siblings planned a festival where the Spanish-speaking community in Oregon could receive, in a joyful way, information about organ, eye and tissue donation. Alejandra is now the lead organizer for this family event that features live music, games, raffles, face painting, clowns, Zumba, health information, free dental and eye exams, and testimonies about donation. Beginning in 2011, thousands of Oregonians have learned accurate information about donation and transplant for the first time and have taken the step to register donors and educate others in their families.
Alejandra is also a volunteer in Donate Life Northwest's Spanish outreach program. She attends regular team meetings, shares her story on Spanish-language interviews, recruits new volunteers, and actively teaches people about organ donation through her role as a Health Promoter.
"The hard work of donation advocates makes a huge difference in our ability to increase the number of lives saved through organ transplantation," said UNOS President Stuart Sweet, M.D. "Alejandra's hard work educating her community is creating a culture of donation and is what this award is about."
UNOS established the National Donor Memorial Award for Excellence in 2010 to recognize exceptional advocates who promote organ donation and transplantation. UNOS solicits nominations for the award from the organ procurement organizations and transplant centers in the United States. Alejandra was nominated by Donate Life Northwest. Previous winners have been donor family members, a social worker/donation advocate, and a liver recipient.
UNOS, a private, nonprofit organization, unites and supports the organ donation and transplantation community nationwide through organ placement, research, technology, policy development and education. UNOS serves as the nation's Organ Procurement and Transplantation Network (OPTN) under federal contract. As the OPTN, it matches lifesaving organs with people awaiting transplants nationwide. Also, it manages the national database of medical information about transplant candidates, recipients and donors.
UNOS has been headquartered in the Richmond area since its founding in 1984. UNOS is also home to the National Donor Memorial, which honors the life-giving impact of organ and tissue donation.