UNOS matches donated organs with transplant candidates in ways that save as many lives as possible and provide transplant recipients with the best possible chance of long-term survival.
We work with the transplant community to develop policy and matching criteria. After the OPTN Board of Directors approves new policies, UNOS programs the changes into our computer matching system. Only medical and logistical factors are used in organ matching. Personal or social characteristics such as celebrity status, income or insurance coverage play no role in transplant priority.
How does UNOS save lives?
Matching donor organs with transplant candidates
When a transplant hospital accepts a person as a transplant candidate, it enters medical data—information such as the person's blood type and medical urgency and the location of the transplant hospital—about that candidate into UNOS' computerized network.
When an organ procurement organization gets consent for an organ donor, it also enters medical data—information such as the donor's blood type and body size and the location of the donor hospital—into UNOS' network.
Using the combination of donor and candidate information, the UNOS computer system generates a "match run," a rank-order list of candidates to be offered each organ. This match is unique to each donor and each organ. The candidates who will appear highest in the ranking are those who are in most urgent need of the transplant, and/or those most likely to have the best chance of survival if transplanted.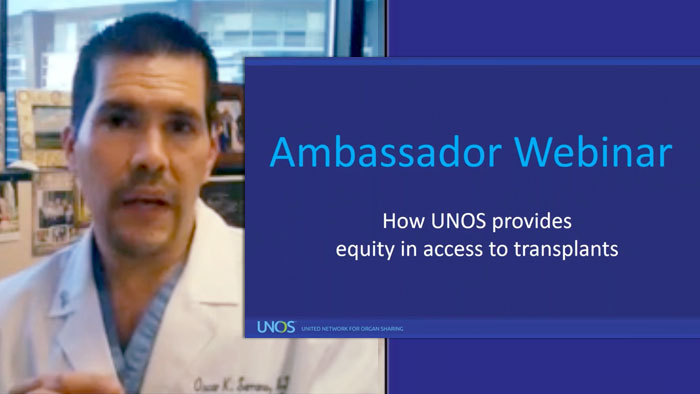 Equity in access
Watch recorded presentation to learn how UNOS is working to increase equity in access to transplants.
Prioritizing patients for transplantation
Many factors used to match organs with patients in need are the same for all organs:

Before an organ is allocated, all transplant candidates on the waiting list that are incompatible with the donor because of blood type, height, weight and other medical factors are automatically screened from any potential matches. Then, UNOS' computer system determines the order that the other candidates will receive offers.

There are 57 local Donation Service Areas and 11 UNOS regions that are used for U.S. organ allocation. Hearts and lungs have less time to be transplanted, so we use a radius from the donor hospital instead of regions when allocating those organs.

Proper organ size is critical to a successful transplant, which means that children often respond better to child-sized organs. Although pediatric candidates have their own unique scoring system, children essentially are first in line for other children's organs.
Factors in organ allocation
Blood type and other medical factors weigh into the allocation of every donated organ, but each organ type has its own individual distribution policy, which reflect factors that are unique to each organ type:
Kidney
Waiting time
Donor/recipient immune system compatibility (CPRA score)
Prior living donor
Distance from donor hospital
Survival benefit
Pediatric status
Lung
Medical urgency
Likelihood of survival within 5 years post transplant
Immune system matching (CPRA)
Height match
Blood type
Pediatric status
Living donor status
Travel efficiency
Proximity efficiency
Liver
Medical urgency
Distance from donor hospital
Pediatric status
Heart
Medical urgency
Distance from donor hospital
Pediatric status