Learning together
Every transplant is its own journey, but you are not alone. Our webinars offer answers to your questions, whether you are a patient or care for one.
Sept. 22 webinar: Patient questions answered
Join us to learn more about the latest concerns, recommendations and policies surrounding COVID-19 and transplant.
As the COVID-19 virus continues to cause confusion, we are receiving questions from organ donation and transplant patients looking for clarity. We have sourced the most common COVID-19 questions from the UNOS Patient Services Line and UNOS Chief Medical Officer David Klassen, M.D. will answer them in this live webinar.
Made possible by a generous gift from CareDx
Join us!
COVID-19 and transplant: Patient questions answered
Wednesday, Sept. 22, 2021
3:30 p.m. – 4:00 p.m. EDT
Transplantation Journey
Living organ donation
April 14, 2021
Learn more about living organ donation from Heather Hunt and Katey Hellickson, members of the Living Donor Committee.
Transplantation Journey
Post-transplant health & wellness (part 1)
May 12, 2021
Are you a transplant recipient? Learn about post-transplant health and wellness from Darnell Waun and Molly McCarthy, members of the Patient Affairs Committee. This is the first of two health and wellness webinars in our series Transplantation Journey.
Resources
Transplantation Journey
Post-transplant health & wellness (part 2)
July 14, 2021
Health and wellness continues long after receiving an organ transplant. Learn about post-transplant health from UNOS Medical Director David Klassen, M.D., Filza Hussain, M.D., of Stanford University, and Koren Axelrod of CareDx. This is the third webinar in our Transplantation Journey series.
Policy
Equity in access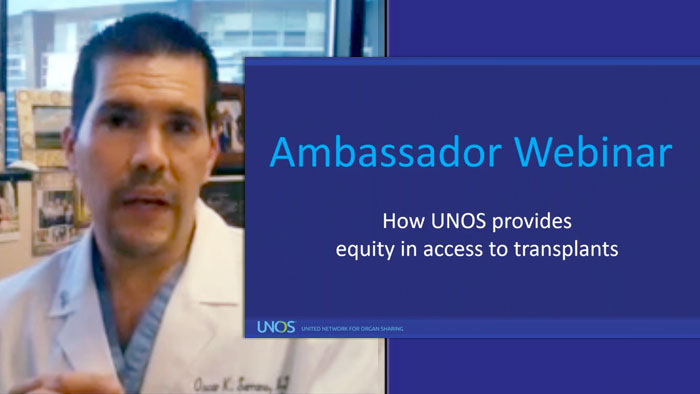 Learn how UNOS is working to increase equity in access to transplants. Watch recorded presentation with Minority Affairs Committee member Oscar Serrano, M.D., on how the needs of minority and vulnerable populations are considered and addressed in policy development.
Leaders in transplant excellence
The Transplantation Journey webinar series supported by CareDx. Special thanks to our corporate sponsor for supporting excellence in transplant education.
UNOS, in partnership with webinar panelists, creates the Transplantation Journey content. Sponsors provide the production support to make the webinars possible.